Los Angeles High-Performance Dihedral House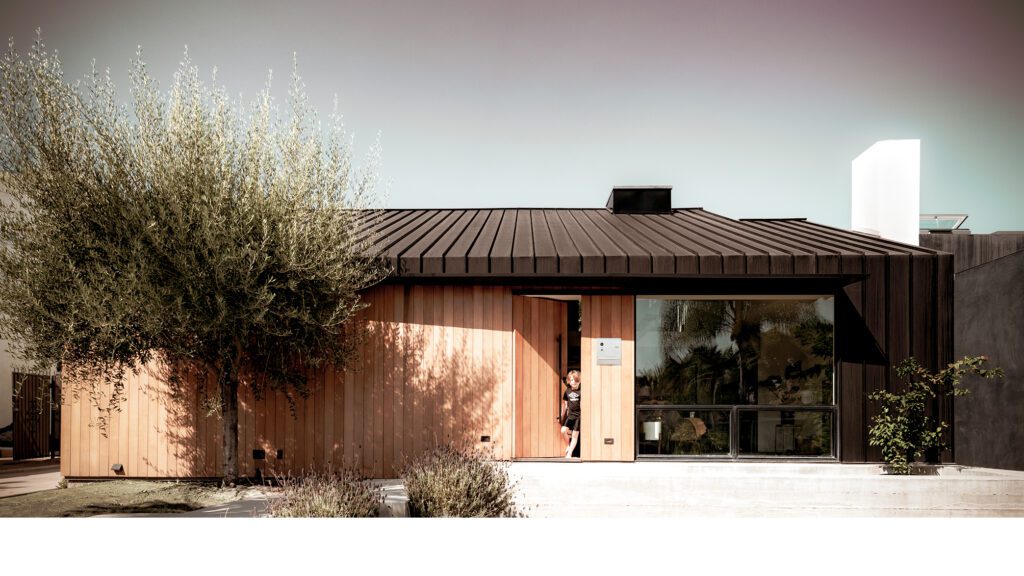 The dihedral house is a transformative design build project in the Culver City-Adjacent neighborhood of Baldwin hills. The client's goals were to both expand and upgrade their 1940s home within which they had lived for over 25 years. They initially approached our firm to review a set of plans competed by a local architect for a second opinion and to prepare for the construction phase. After a thorough review, our architectural team discovered and exposed several design and constructability concerns and several opportunities on which to capitalize. After these recommendations the clients hired our team for a complete revamp of the entire project.
The existing home, as are so many 1940's post war Los Angeles homes, was organized in a very segmented and strict plan which included separate kitchen, living, and dining spaces. Through several years of remodels the flow from room to room was only made worse, including a small 2nd story addition accessed by a dangerously steep staircase. Our clients, both of whom value family and socialization, required the new design to blend interior and exterior spaces through a connection to their backyard. They also requested we integrate a space for a home office which they hoped to use as a guest room for their in-laws and friends. Indoor air quality, comfort and energy efficiency were also very important aspects of our clients wish lists. Last but not least, was the goal to re-vitalize and energize the front façade to increase the property value and curb appeal.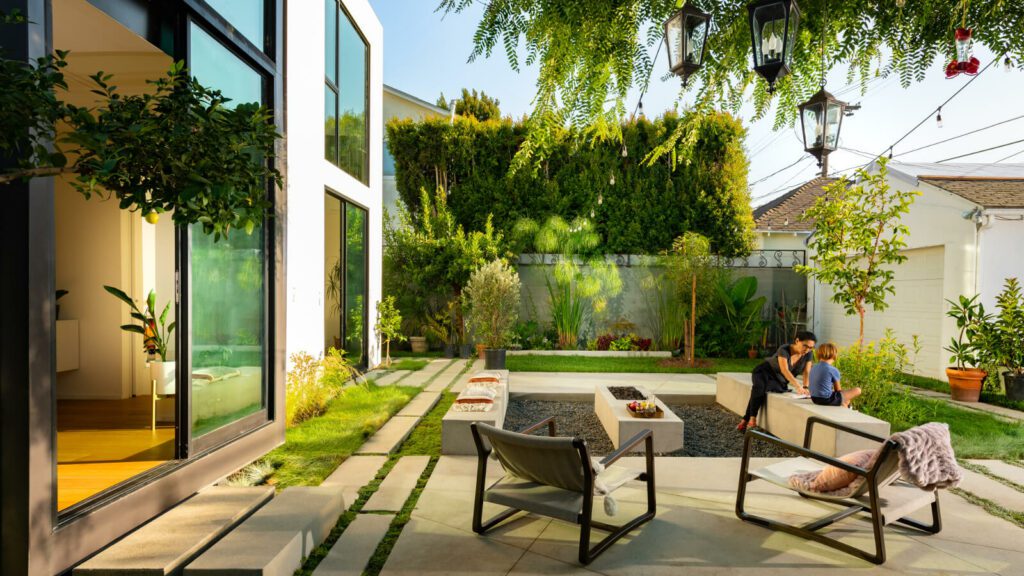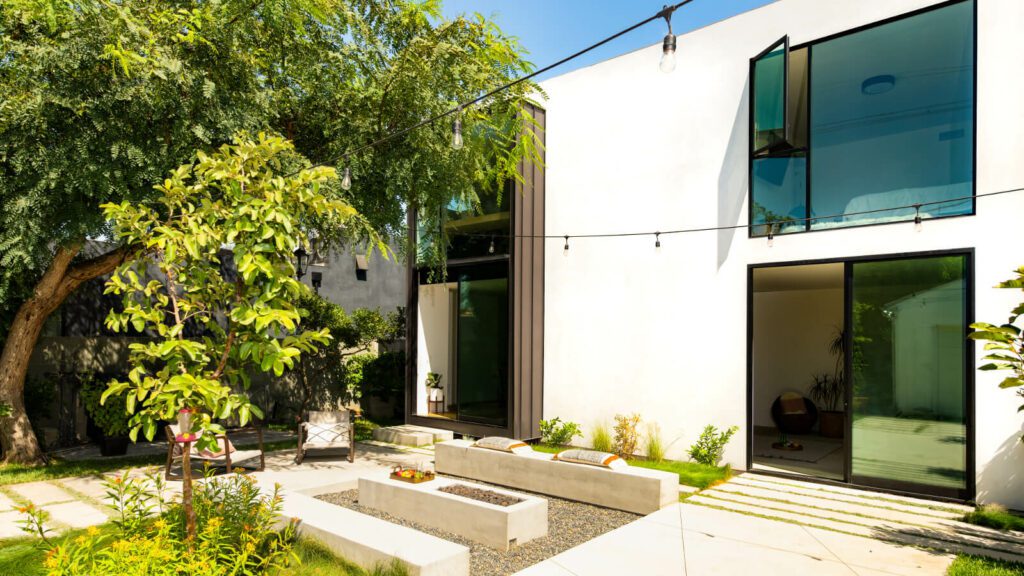 In our design build process we vacillate between analog and digital tools including pen and ink hand sketching, digital design modeling and computer technology for realistic energy and solar studies.
As passive house certified designers we introduce and incorporate design features that reduce thermal bridging, increase indoor air quality, and incorporate solar shading and high-performance glass for windows and doors all contributing to a higher standard of energy efficiency. At the dihedral home we implemented a zero thermal bridge design which can be seen in the monolithic ramp-like building form. Typical insulation is placed within the wood stud cavity which rapidly transfers heat through the wall and roof. Our design solution employs an encapsulation of the home with an exterior rigid insulation to reduce heat transfer through the wood framing. At the roof, the main source of heat transfer, we doubled the effective insulation value to reduce reliance on mechanical cooling and lower our client's energy bills. Bolstering the interior environment, we installed a recycled newspaper blown-in cellulose insulation throughout the interior and exterior walls. This feature creates a home that is both energy efficient but also peacefully quiet to keep traffic noise to a minimum.
With the conditions of most crawlspace being one of moisture, mold and rodent decay and the fact that 50% of the air we breathe originates from underneath our homes we knew this client would appreciate a healthy solution. We resolved this indoor air contaminate issue by way of a process known as encapsulation. This process vastly improves your home's health. We removed years of debris from the crawlspace then leveled the earth in a process called grading in preparation for the encapsulation. We then installed ridge foam panels to the interior side of the existing concrete foundation before we completely wrapped the space with a heavy-duty polyethylene membrane. This space now serves as a clean room to keep our client breathing uncontaminated air.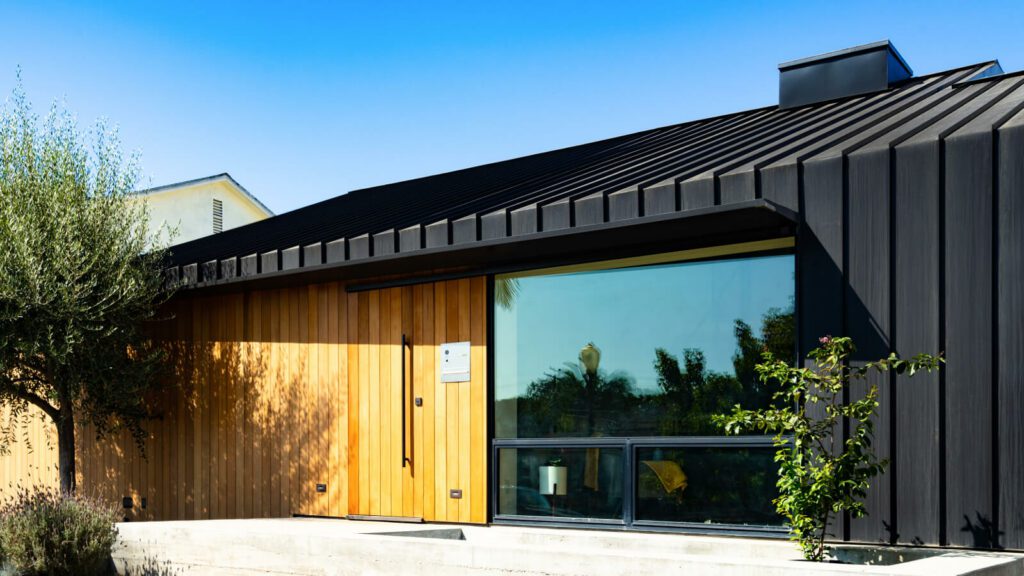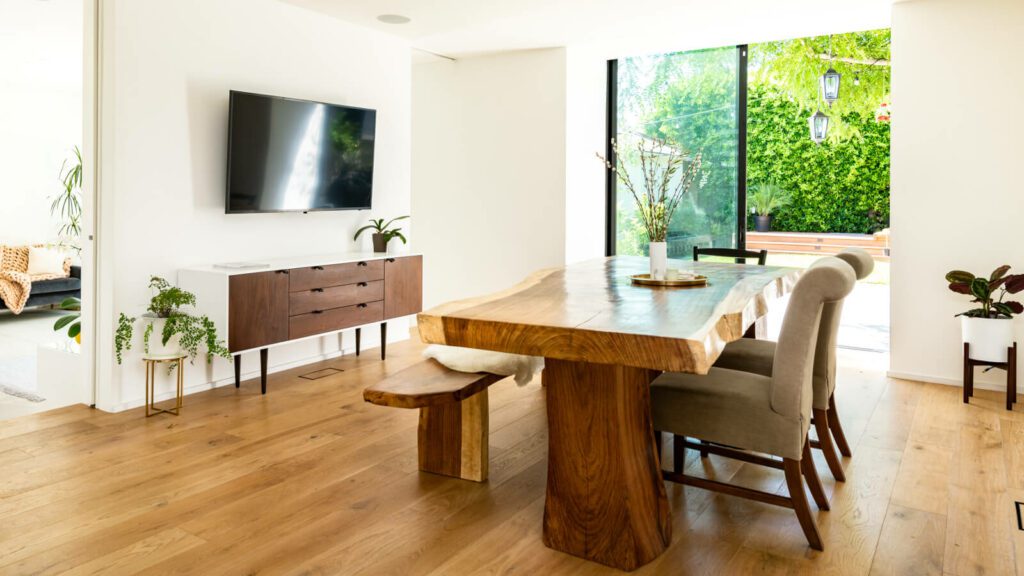 Structural design improvements were achieved by removing half of the existing homes gable roof and rotating the roof plane upward to create a large double height space in the new kitchen. A large 15 foot island is flooded with natural daylight under a 16 square foot skylight which sits 20 feet above on the new raised roof cathedral space. A linear white aluminum high-efficacy LED light fixture provides focused task lighting over the sink. Simple architectural gestures transform the home into a multi-use space that connects the expanded 2nd floor to the open atrium great room. The heart of every home, our team built custom rift white oak kitchen cabinets with pre-finished maple interiors, complete with hidden pull out steps to access the hard to reach storage. We even incorporated an appliance garage to house the cappuccino machine. Every appliance has a home and every feature of the house has a place.
Vertical circulation is achieved by way of a custom designed and built steel stair in the heart of the home's great room. A single steel tube serves as a focal structural element to host the solid white oak wood stair treads which seem to float off the white double height wall. Hidden steel plates inside each step integrate with the structural framing to achieve this open tread design. The guard rail is composed of steel aircraft cable and 1/2 inch thick steel plates. In order to achieve visual contrast we blackened the stainless steel to allow the material composition to remain visible while offsetting it from the white interiors and zero-bezel air conditioning vents. Special consideration was added to the upper loft as the ceiling terminates at a single edge as it touches the European oak flooring.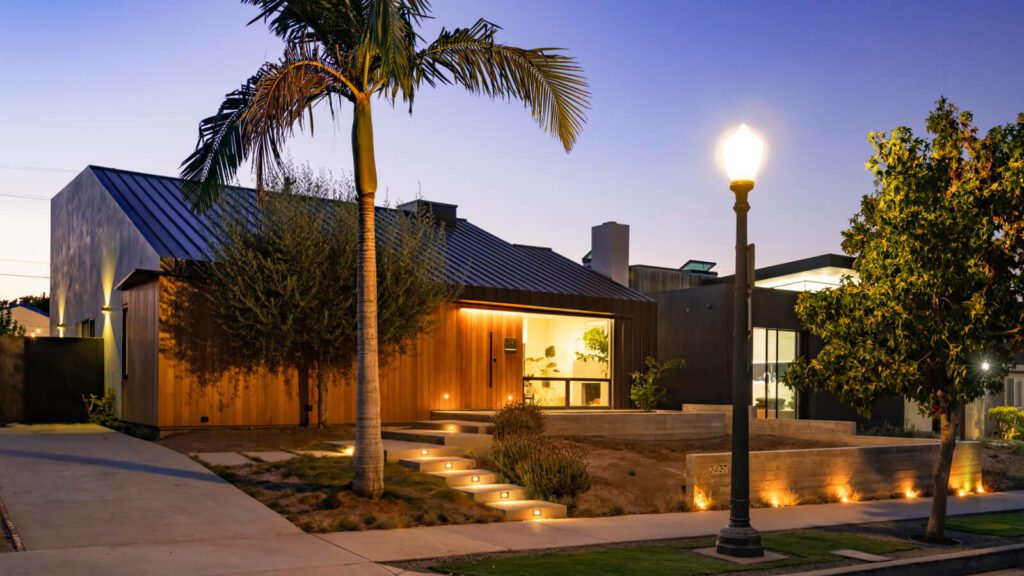 As more clients work from home the design of the 2nd floor home office becomes more valuable. Our solution for this area involved the installation of an acid-etched glass aluminum sliding shoji screen wall which can be tucked away behind a wall. This area can be 100% open or 100% private at any moment which is so important for both acoustical and visual privacy.
We also design and build custom furniture for our clients as can be seen in the Dihedral house floating oak office desk which is supported by hidden steel tubes that run wall to wall. This desk is held off the window by only inches and allows for much needed visual rest from focused computer screen eye fatigue and is part of a window wall system that spans the entire west façade. Just beyond the office window system lives a large Bolivian Tipa tree in the rear landscape which provides shade to the west façade and filters light onto the home. The contracts between the front and rear façade couldn't be more pronounced which achieves our clients goals for front yard privacy and backyard connection.
Respect for carpentry and craft is one of the hallmarks of our design build process and is highlighted in a beautiful western red cedar vertical flush-installed siding that conceals the large hidden entry door. Continuously wrapped custom fabricated standing seam steel siding wraps from the roof onto the front façade and serves to highlight the floating double height extruded backyard bay window. The warm wood front façade invites the home owners into the property and is carefully located under a large custom fabricated steel canopy which doubles as a rain gutter.
We approach every aspect of each project as an opportunity to creatively address environmental conservation. The 26 foot long custom canopy / rain gutter is the result of such design process and services as a rain collector for the entire home. On rainy days, a nine-foot-tall waterfall descends from the edge of the canopy terminating within a board-formed concrete Japanese rock garden and subsequently serves an underground cistern in the landscape.
Our team incorporates landscape design as a critical extension and continuation of the architecture. Architecture is defined with vertical and horizontal surfaces but landscape design allows for a softening of form. At the Dihedral house we sculpted the landscape into berms which both direct water and support concrete walkway pads that are finished with a steel-troweled top-cast concrete process. Dymondia and Thyme fills interstitial voids between each stepping pad and is juxtaposed with creeping red and blue fescue and a fruit-less olive tree. The back yard serves as a outdoor living room perfect for summer family gatherings. Hidden speakers in the landscape add relaxing ambiance to the sunken conversation pit grounded in mixed Mexican blue and grey pebbles. A custom linear concrete fire feature provides warmth to late afternoon parties and is flanked by low profile poured-in-place concrete benches
The sunken concrete family room can be closed off from the rest of the house for private viewings of US Open Tennis matches on the 80 inch flat screen monitor byway of sliding floor-to-ceiling shoji pocket walls.
We located the new master suite on the ground level and tucked it behind the laundry and powder room to keep it private from the common spaces. Working within the confines of the existing gable roof we created an 11 foot tall ceiling in the new master bedroom and added two high-performance passive-house certified tilt-and-turn windows on the south façade which can be tiled open at night to allow the cool fresh air to fill the space while keeping it secure. The high-performance glass reduces solar heat gain and is frosted to increase privacy, yet still invite light.