Fairfax Brutalist Multifamily Development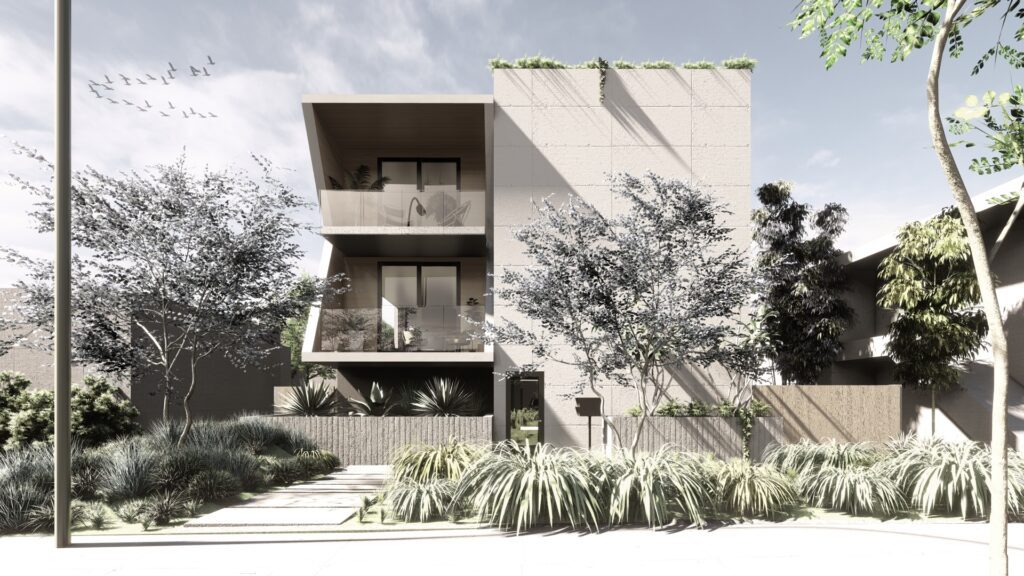 Fairfax Brutalist: a Multifamily Development in Little Ethiopia, Los Angeles
Harmonious Fusion: A Stunning Multifamily Development in Little Ethiopia
In the vibrant district of Little Ethiopia in Los Angeles, California, a new architectural gem is set to redefine the neighborhood's skyline. Alloi, a renowned architectural firm specializing in high-performance buildings with a zen modern minimalist aesthetic, was entrusted with the task of transforming a property owned by a visionary Filipino businesswoman. The client's desire to capitalize on her prime location led to the creation of a four-unit multifamily development, where the harmony of brutalist concrete, steel, and glass intersects with warm wood interiors. This architectural masterpiece seamlessly blends the international style with contemporary design elements, making it a true standout.
Capitalizing on the Neighborhood:
With the surrounding area witnessing a rapid expansion of large apartment buildings, the client realized the potential of her property. Alloi's expertise in creating transformative designs aligned perfectly with the client's vision. Through careful consideration of the neighborhood context and the client's preferences, multiple design options were explored. Ultimately, a stunning concept emerged, showcasing Alloi's ability to create a project that not only harmonizes with its surroundings but also stands out as a unique addition to the neighborhood's architectural tapestry.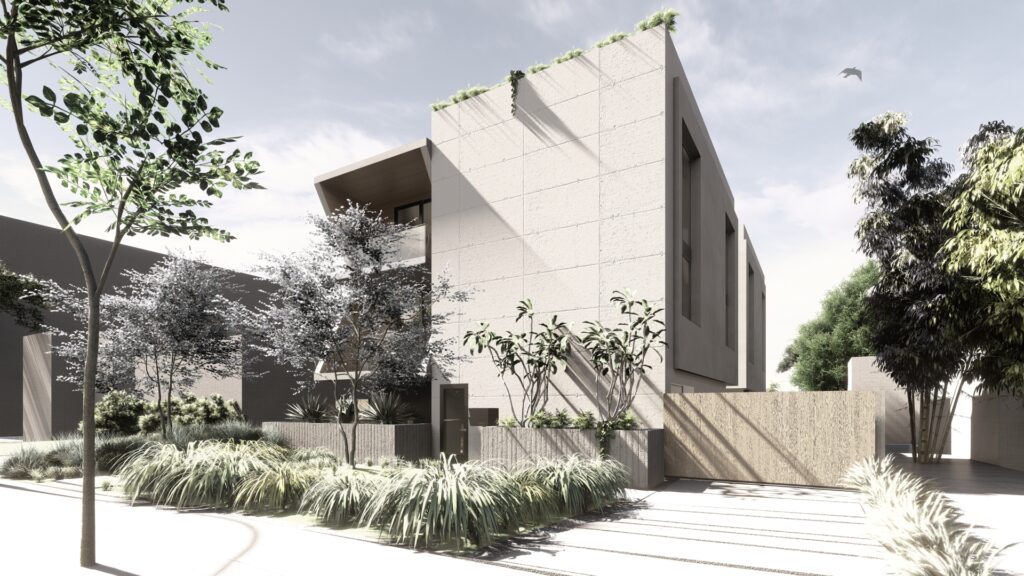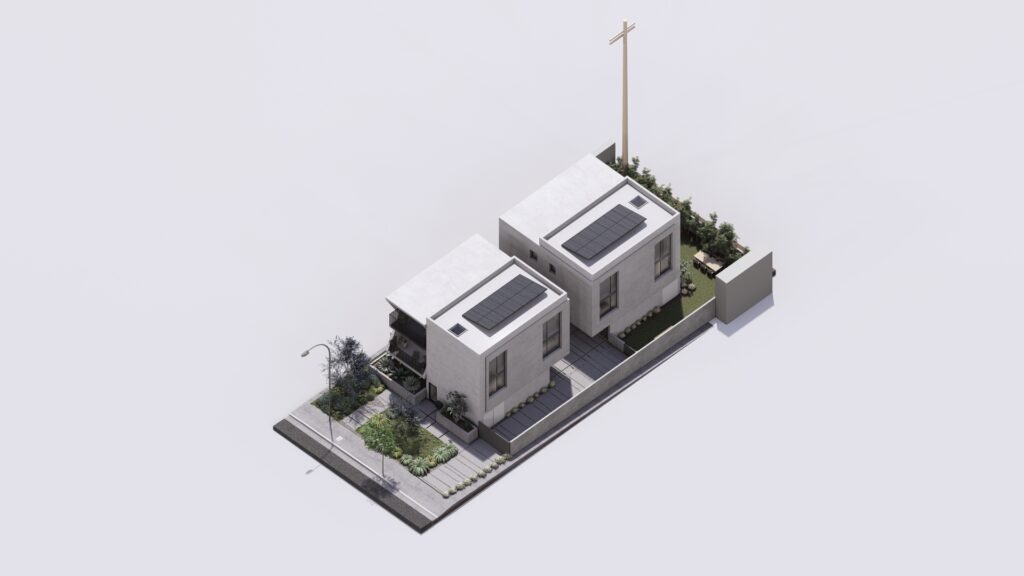 Embracing a Modern Minimalist Aesthetic:
The chosen design scheme celebrates the essence of a modern minimalist aesthetic. The multifamily development seamlessly integrates the use of brutalist concrete, steel, and glass, resulting in a structure that exudes strength and elegance. This bold architectural language is softened by warm wood interiors, creating a balance between raw industrial elements and a welcoming living environment. The interplay of materials not only adds visual interest but also ensures a lasting and timeless appeal.
Integration of Sustainable Design:
Acknowledging the importance of sustainability, Alloi's design for the multifamily development incorporates various features to reduce its environmental impact. The lush and inviting entry landscaping incorporates carefully positioned feature trees, enhancing the visual appeal while providing natural shade. To combat the heat island effect, a green roof has been implemented on the rooftop, acting as an insulating layer to keep the building cool. The strategic placement of private patios on the south-east façade allows ample sunlight into the modern apartments, maximizing natural light and reducing the need for artificial lighting during the day.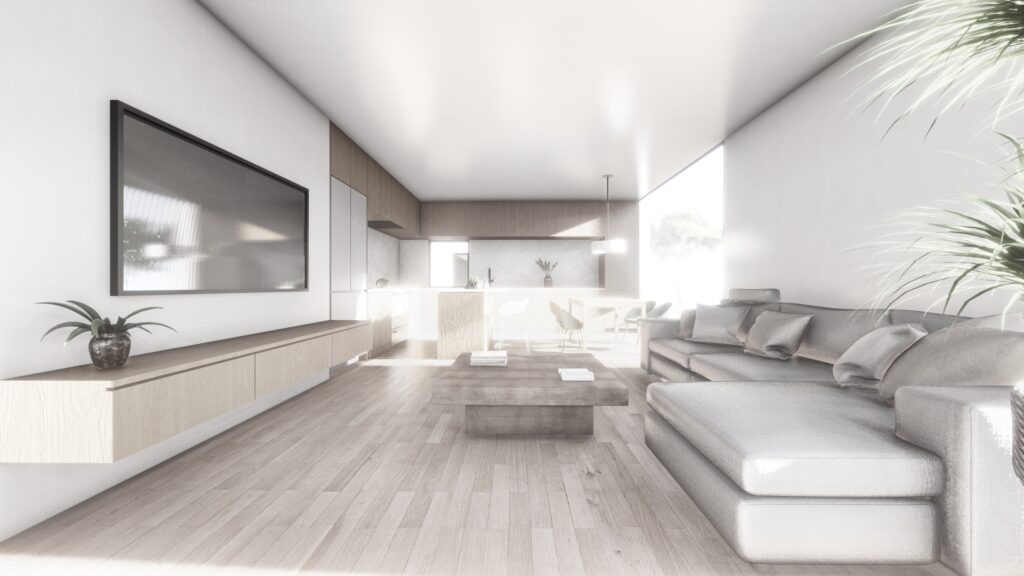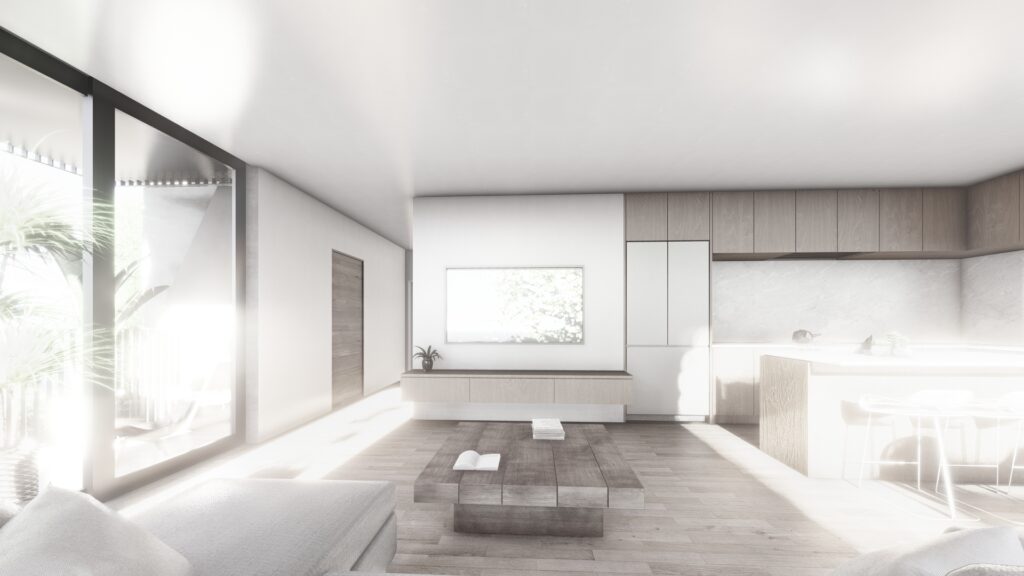 The new concept design for the multifamily development in Little Ethiopia showcases Alloi's ability to merge aesthetics, functionality, and sustainability seamlessly. By combining brutalist concrete, steel, and glass with warm wood interiors, the project exudes a harmonious balance between raw strength and inviting tranquility. The integration of sustainable design elements, such as the green roof and strategic positioning of private patios, further enhances the project's appeal while prioritizing the well-being of its residents. This architectural masterpiece will undoubtedly stand as a testament to Alloi's expertise and the client's visionary mindset, leaving an indelible mark on the ever-evolving landscape of Little Ethiopia.